Your version of the spot was better than the one we paid our marketing consultant for!
Nothing I can ever do or say can express my gratitude for all you've done. Your patience and hard work mean so much!
Randy has some of the best pipes on the air. He voiced our national radio ad and we got a higher response rate than any other read prior. When we asked a few of our customers what they thought many said that he comes across like "someone they can trust". Great to work with, great results!
here's the scoop
I've been voicing & producing commercials and narrations for over 25 years, and have provided services for companies like AT&T, Coca-Cola, Subway, Sonic Drive-In and more. My specialty is narration voice for e-learning, corporate audio/video and medical narration, but I also do character voices and dialects and a boat-load of radio and TV commercials, too. I'm a hermit who resides inside my Cave of Audio most of the day, fixated on my screen and glued to the microphone until my tasks are complete. I'm also hard-wired to receive timed bursts of caffeine every 25 minutes via a human drip system I designed myself. I go out at night to experience and record the various sounds and ambiances of the dark city, but must return before daylight. I don't watch movies or TV – I LISTEN to them (and sometimes get to show up in them!).

To say I couldn't do without you is an understatement. Thanks for all your great work!
Thank you for the multiple options and being so accommodating. Looking forward to working with you again!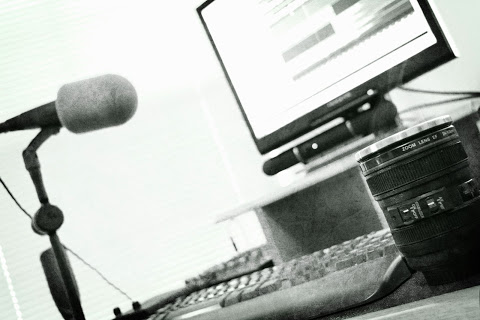 services.
commercial vo for radio and tv
internet voice applications
podcast production
e-learning
IVR on-hold systems
corporate narration
documentary narration
ADR/dialog editing
need a custom audition? pricing for your project?
contact me